China Pre-K Education Market: Opportunities & Challenges

With a further increase in China's birth rate, Chinese education market has never become so big: Chinese parents care more about quality education and they are willing to spend money on it.
Based on the latest search data from Baidu, "Early Childhood education" or "Pre-Kindergarten (also called Pre-K)" related keywords are leading the education-category queries. What kind of message does it send? How can Pre-K business learn from this? Below are the spotlights of this research:
40% Searches about Pre-K
Quick breakdown the education-related search queries on Baidu: In 2017, there were only 18%searching "Pre-K education" or "education for kids aged 0-6"; Now the number has grown to 40%.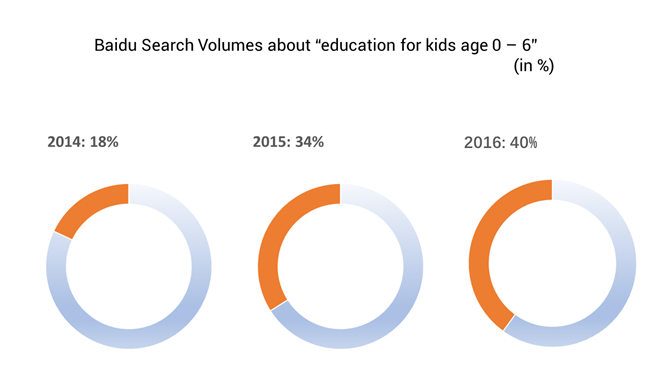 Meaning: The early childhood education in China just became earlier. Parents start to build a professional education program since the kid was born.
Moms Mainly Does the Search
"Moms" or female users are the ones who search Pre-K on Baidu. 34% of the female users are born after 1990 – they are young, educated mothers who care about quality education and will use online information to help them make decisions.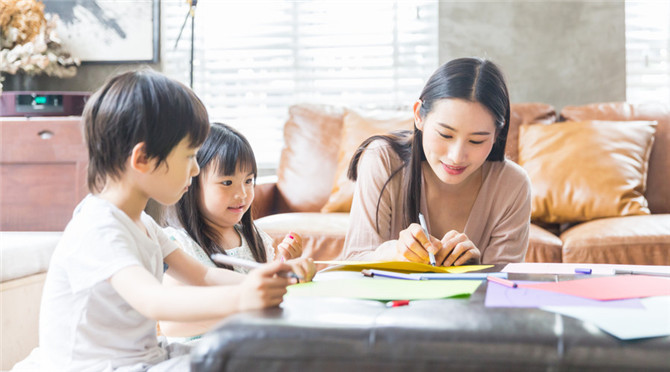 Also – where do they go to after seeing the search result? 51% users will check pages on Baidu-related platforms like Baidu Baike, Baidu Jingyan & Baidu Zhidao; 49% will go to vertical sites, brand's websites and video sites.
It's not hard to tell that for your Pre-K business in China, "moms" should be your target. Also, Baidu is still the no.1 platform for you to improve visibility and build reputation.
Eyeing Opportunity in Tier 2 & 3 Cities
Surely China is a huge market however Tier 1 cities offer limited opportunities. You may want to look at Tier 2,3 & 4 Cities in China: at least the search volumes about Pre-K education are the highest.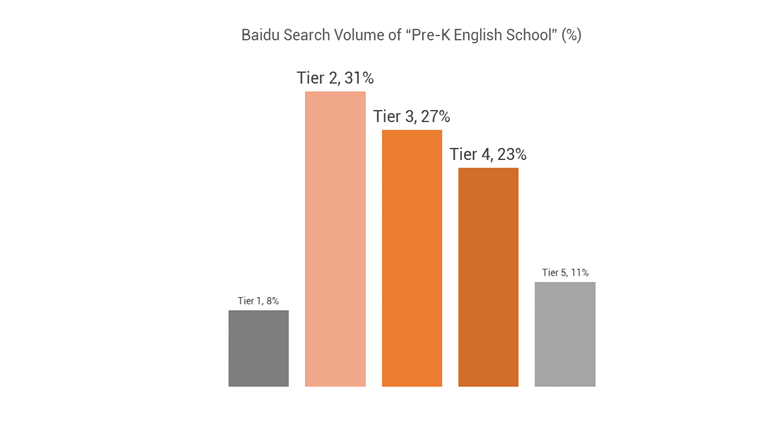 The country's many tier 2 and tier 3 cities, which can feature populations of 10 million or more also have enormous potential. Don't only think about how to break into Beijing, Shanghai & Guangzhou market - do your research and find the preferred destination for expanding business in China.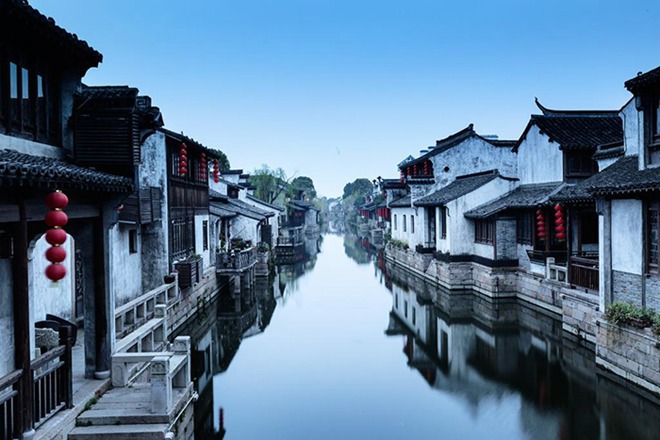 Small cities like Wuxi, Jiangsu could be your perfect landing spot
New Brand? Don't Worry
Data shows that only 25% are searching brand-related keywords. Other most-searched keyword categories are: age-related, industry-related, location-related, etc. This is undoubtfully good news for the new brand: even your competitor is a well-known brand in the Pre-K education market, you can still work on your strengths to stand out of the crowd.
Another reason you don't have to fear competition: 97% Pre-K schools and institutions are medium & small businesses based on Baidu results. Also, parents show no preference between foreign brands and domestic brands.
Connect Your School to Chinese Students
With years of experiences helping foreign education businesses grow in China, we can help reducing barriers for your market entry. From search engine marketing, social media marketing to website localization, we would love to help your school recruit, convert and grow.