SEO in 2019 - What's Working and What's Not?

The State of SEO 2019 Survey by Zazzle Media was filled out by 70% in-house marketers, and 30% from other agencies. Below are the six findings to help you develop your search engine marketing strategies for the year ahead and stay on top of the competition.

1. SEO is more important and effective than ever, but less is being spent

97% of marketers agree that SEO is important to their overall marketing strategy as it grows in importance as a channel.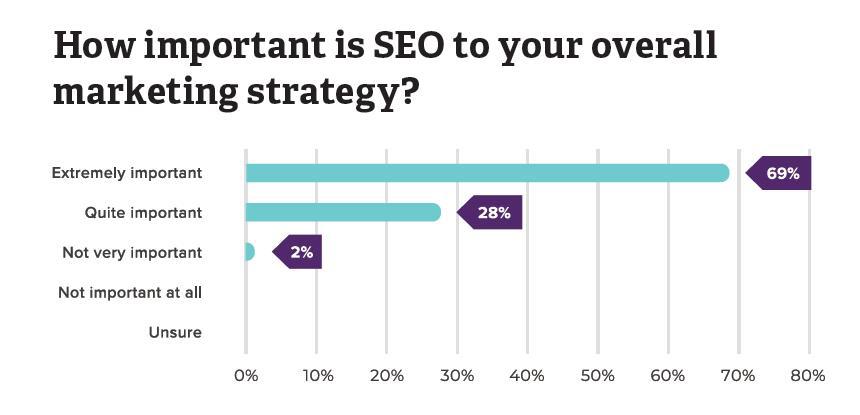 2. One fifth of marketing budgets are spent on SEO

The average budget spent on SEO is 22% – dropping by 5% compared to 2018.

This should also give you an idea about how much you should spend on SEO when allocating your marketing budget.
3. Why is SEO spent dropping?

60% of marketers state that resource and budget shortage are the main reason they don't spend more, followed by "uncertain of effectiveness" (34%).

Coming third in this poll, a quarter of marketers think that "other channels deliver better return" (26%). Especially in China, more marketers are willing to try out social platforms like WeChat, Weibo, Toutiao & Zhihu.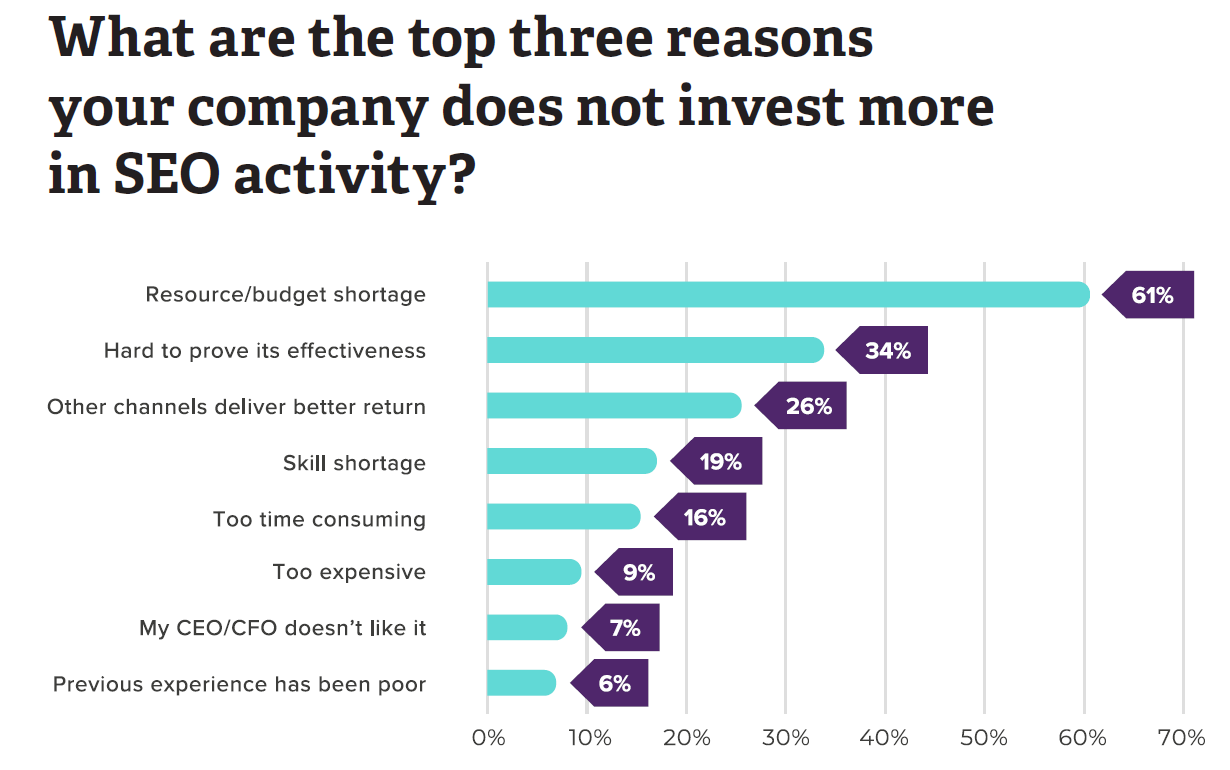 4. Challenge: hard to keep up with latest ranking factors

Ranking Factors keep changing, and it can be hard to keep up with the latest developments. 51% of marketers find it difficult to keep up with changes in search engine results page layout.

One thing is for sure: Mobile friendliness is becoming a bigger factor when it comes to ranking. Make sure you have a mobile-friendly website and adapt to changes and find ways to get atop of SERPs.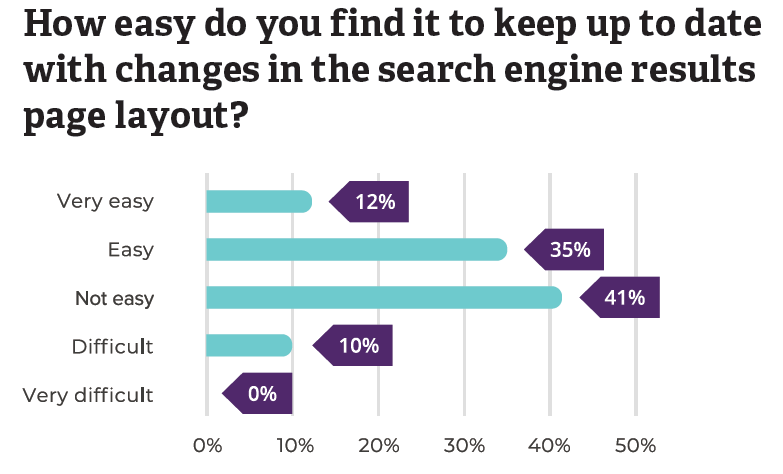 5. What's working & not working?

Which of the following SEO practices do you feel are most effective for your brand? Based on the result, creating new content reigns strong, as well as optimizing old content.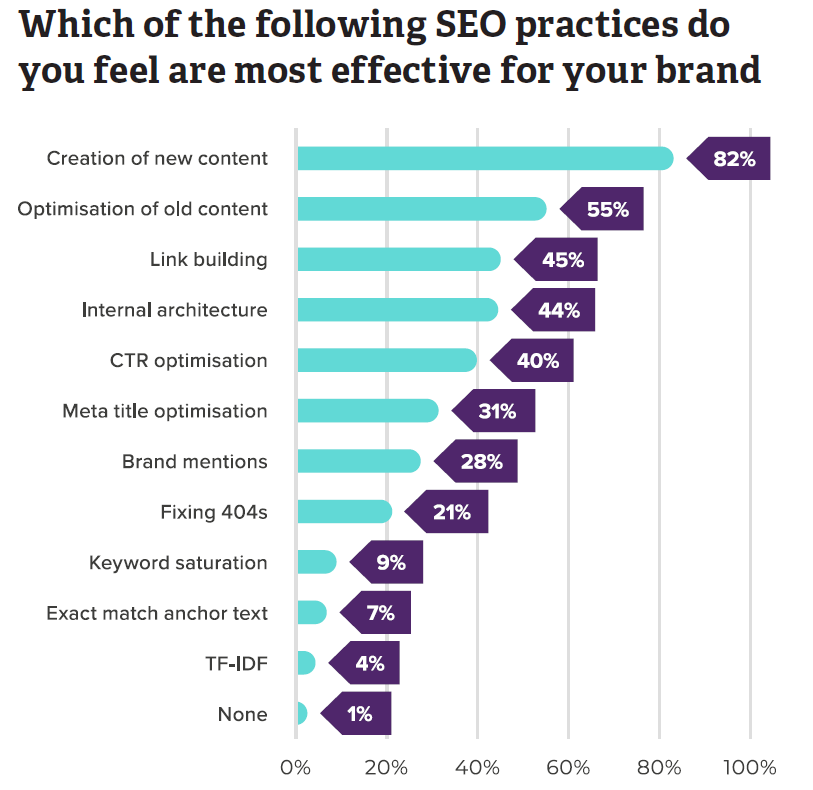 On the contrary, which SEO practices are becoming less effective? Overuse of keywords and exact match anchor text are the top 2.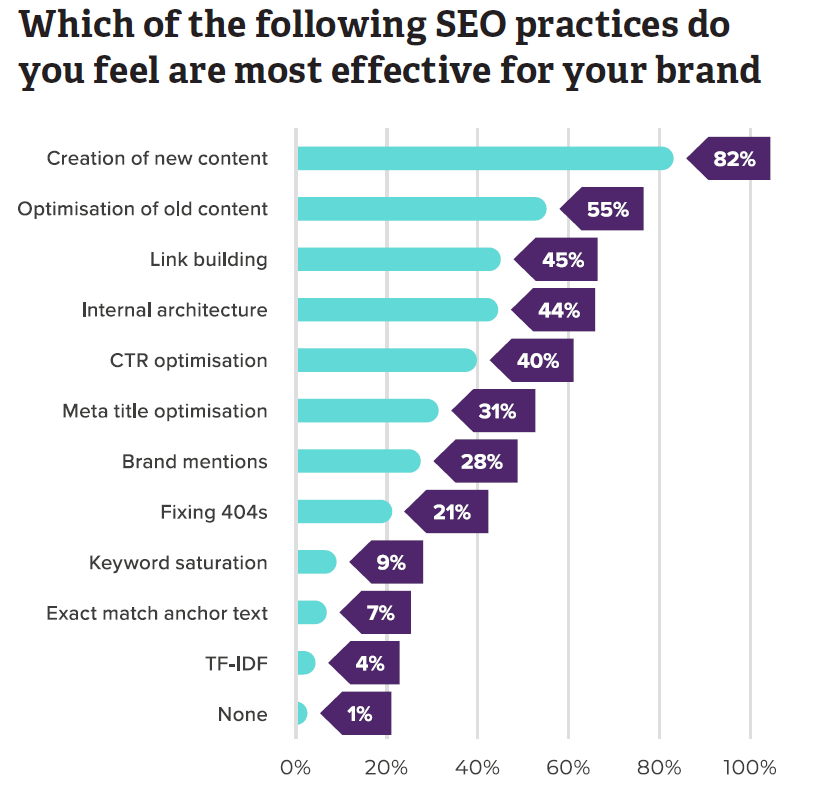 6. SEO goals: traffic first, conversion second

Above all, what are marketers looking to achieve through SEO practices?
Result shows that more quantifiable stats such as traffic and conversions are overtaking more difficult to measure objectives, such as brand awareness.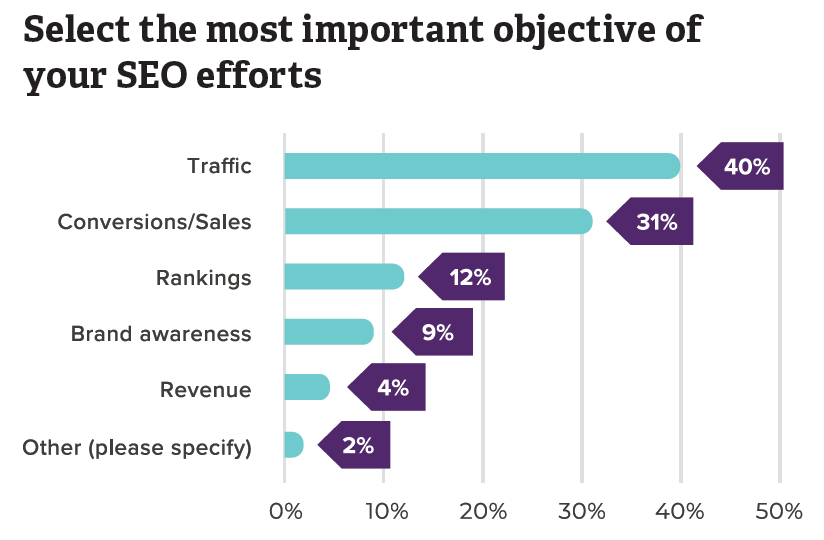 This take us back to the question: what is your objective in SEO Campaign? Before you invest time and money, you should carefully consider your goals. Putting time and energy towards a single goal, only to later add on others can result in duplicated work and effort.