WeChat Search: China's Next Search Engine to Focus

More than just an instant messaging app – WeChat has become the most powerful social app affecting Chinese user's daily life. Earlier this month, WeChat released the new 6.6.6 version. New version brought a lot of useful new features however the biggest improvement is on its search functions.

Where is WeChat Search?
Two ways you can access to WeChat Search: the gigantic search bar at the top your WeChat homepage is the one easy way to go, the other is under "Discover" tab.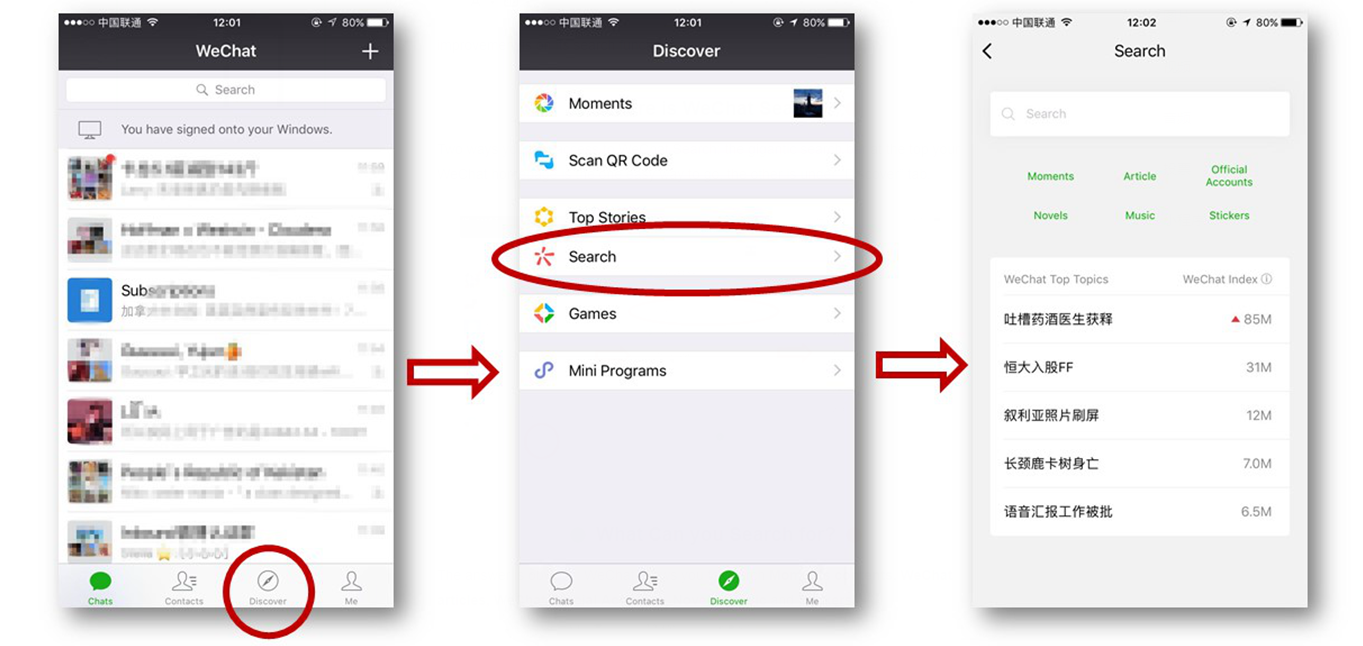 What Can You Find in WeChat Search?
The answer is obvious: WeChat allows you to search Moments contents, WeChat articles, WeChat Official Accounts, Novels, music and Stickers!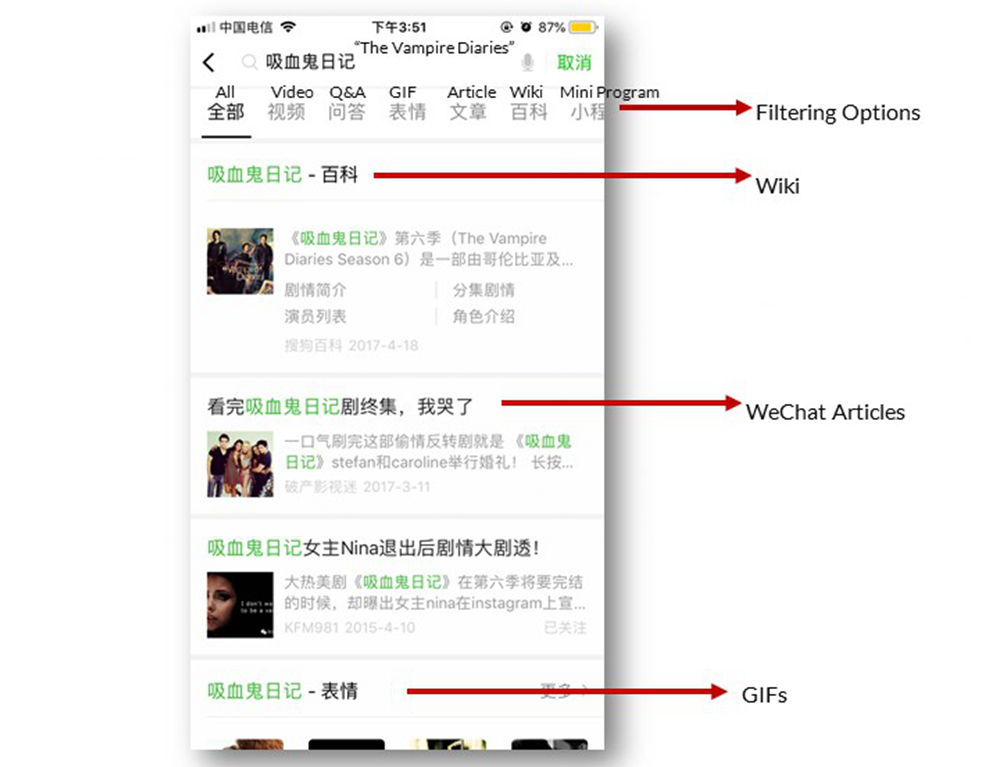 Also, "WeChat Topic Topics" are listed based on "WeChat index". Like Google Trends, WeChat Index shows what are the trending keywords and hot topics integrating search and browsing behavior data on WeChat and Official Accounts.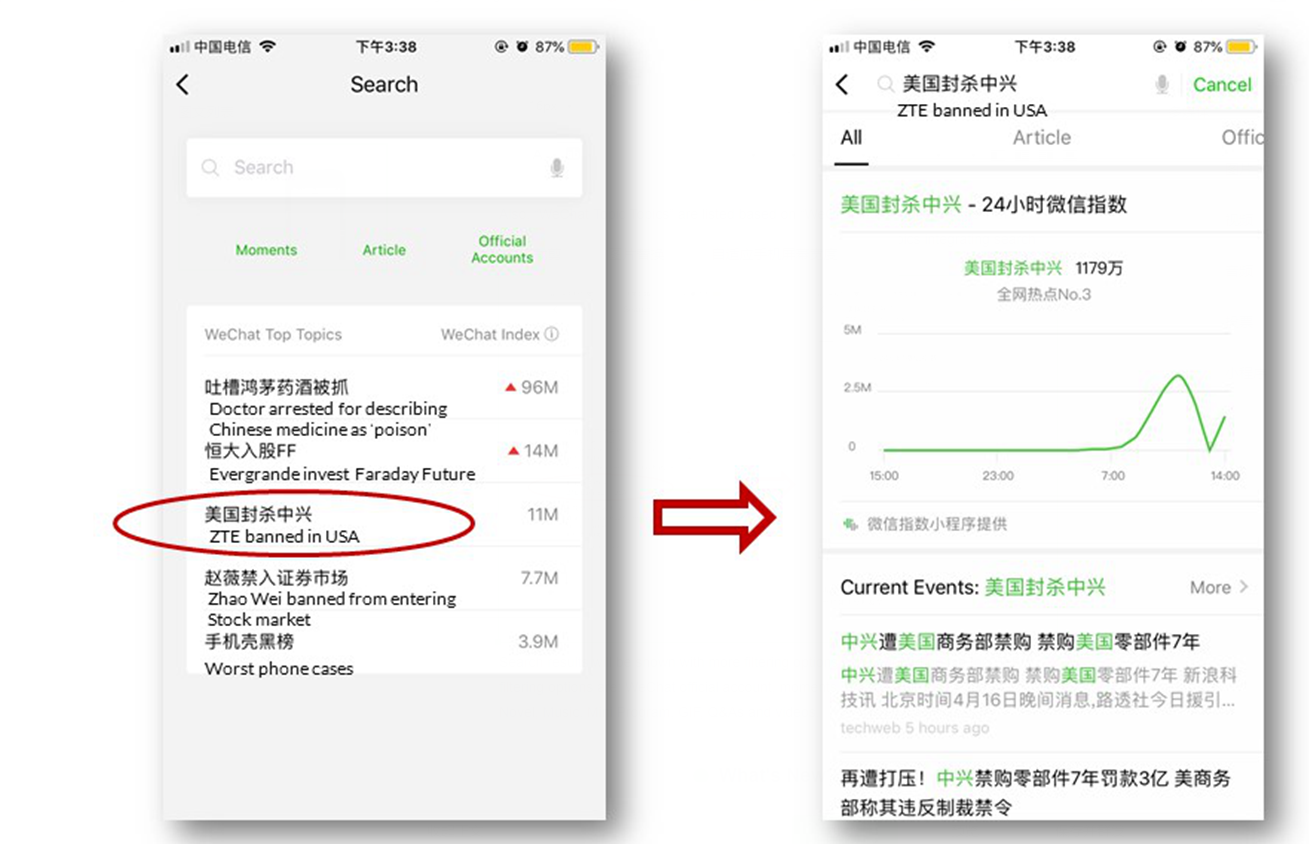 Search results will be shown with more filtering options can be found on the top. Ten filtering options are: WeChat official account, moments, articles, Baike (WeChat Wiki), Novel, Music, Mini Program, GIF, Q&As and videos。
What's New in WeChat Search?
1. Filtering Options in Different Orders
No.1 Interesting fact is: filtering options will be shown in different orders when different keywords are searched.
WeChat has not revealed the algorithm behind these different orders however it has a lot to do with relevancy. Seen example above, "Wiki" will be shown first when a school or a brand is being searched. "Music" and "Videos" will come to the front if user searches a singer. "Moments" also have high rankings in the search result when the keyword has been mentioned in your moments feed before.
2. Sogou Baike is Important
Chinese search engine Sogou was acquired by Tencent in 2013 and it is the one and only search engine of WeChat. The WeChat boost also light up another Sogou's product – Sogou Baike.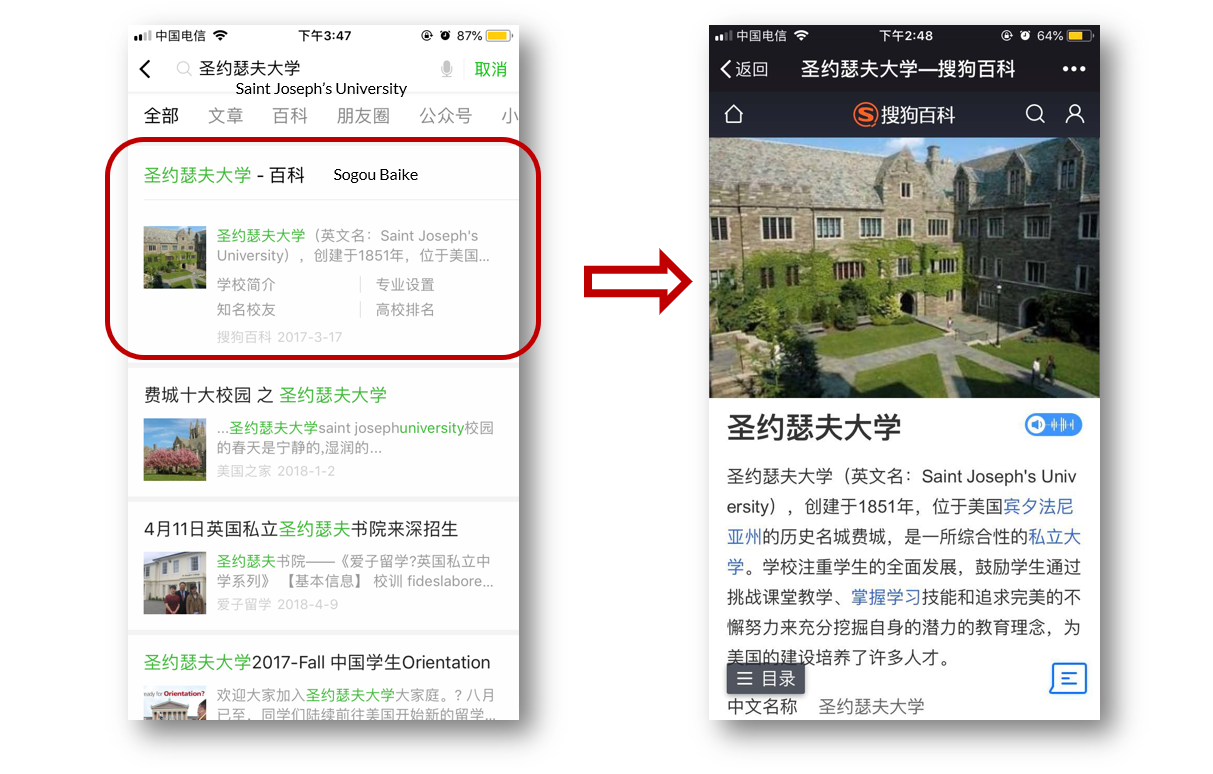 Seen from the example above, this Wikipedia-like encyclopedia service has very ranking in WeChat Search results. The hidden message is: Apart from Baidu Baike, Sogou Baike has also become a very important platform to showcase your brand in China's digital world.
With WeChat's boost, search engine optimization and search engine marketing around Sogou will become more and more relevant.
3. WeChat's Brand Zone
Baidu invented "Brand Zone" years ago to give brand the opportunity to integrate display banners, videos, links and more into a customized ad format. With more and more search queries, WeChat made their moves too.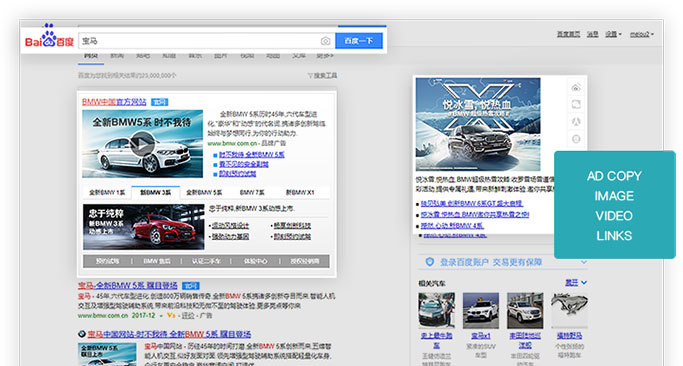 Introducing WeChat's own "Brand Zone". Seen the example below: Not only it appears at the very top of search result, but also it contains direct link to brand's WeChat Shop and WeChat Official Account (OA).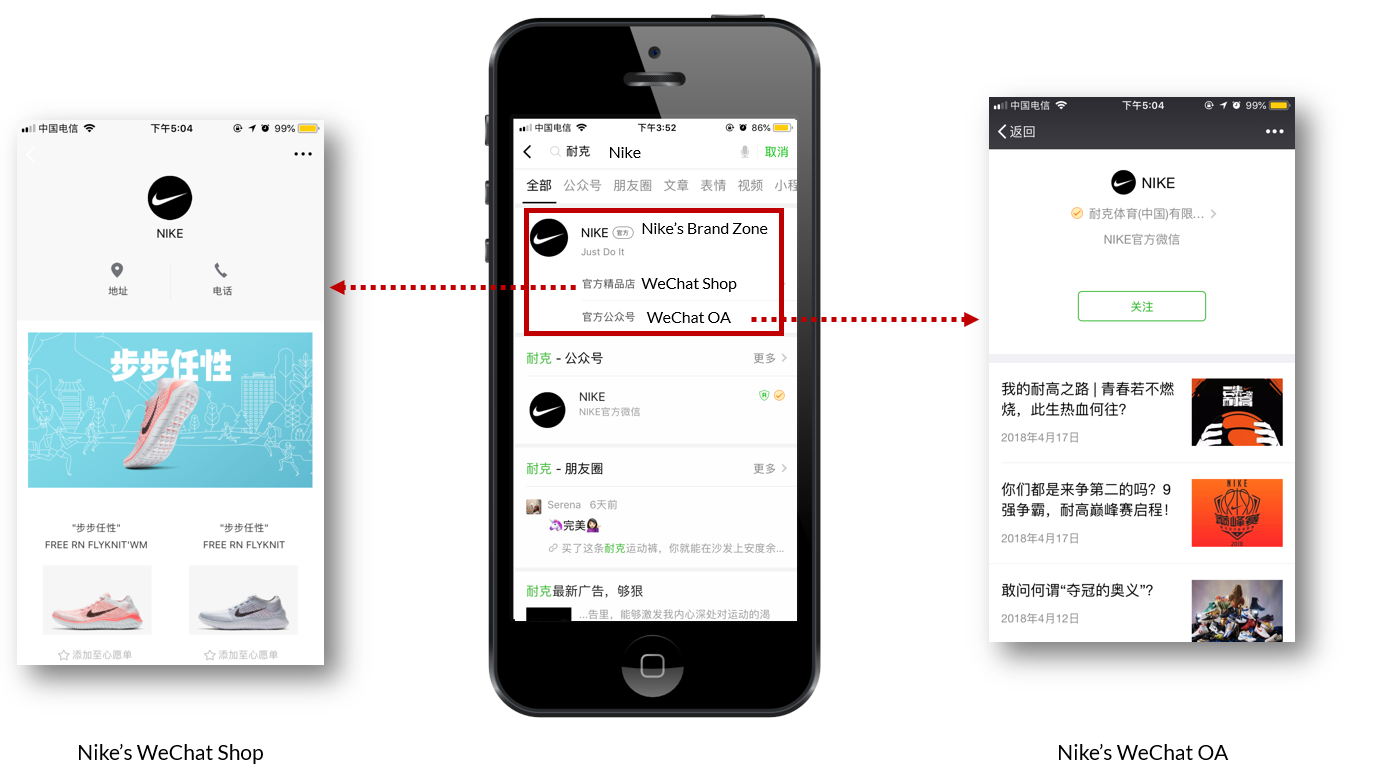 This new product would help more brands to grow their recognition. No matter your brand is large or small, WeChat Brand zone can help you present your image and engage your customers effectively.
Conclusion
While Baidu retains its reign at the top of China's search engine, WeChat Search will help your business gain exposure.
Besides the popular usage, one big reason is: Chinese Internet users are getting used to search on mobile. Since most Chinese are checking their WeChat all the time, enabling search in WeChat will not only save their time but also help WeChat Monetize.
Therefore, get on WeChat Search early (especially before they start to put a price tag on it).