Westwin Predicts Growth In Chinese Cross-border Consumption During National Day Holiday


China is expected to see a surge in cross-border consumption during the week-long National Day holiday that starts on October 1. According to the 2018 China Cross-border Consumption of Chinese Consumers Report ("the Report") from Westwin, a leading marketing and consulting firm that focuses on cross-border business, outbound travel spend this year is estimated to reach US$120.25 billion, a 4.3 percent jump from last year.
The Report shows that Chinese outbound travelers spent a huge sum, approximately US$ 115.29 billion on purchases during trips in 2017, reflecting the growing interest of Chinese consumers to travel and shop abroad. Additionally, the report shows that more and more travelers plan their own trips and gather shopping information by themselves. About 85 percent of outbound travelers in 2017 chose backpacking, independent travel or to go with semi-guided tours, according to the report.
"China's National Day holiday is a great opportunity for cross-border marketing as the market is booming, with independent travelling becoming mainstream," said Larry You, a marketing manager at Westwin. "During the holiday, which lasts from October 1 to 7, we expect to see a large volume of overseas spending by Chinese consumers. We'll continue to study the factors that influence consumers' behaviors, learn more about their shopping habits, and figure out the best channels to reach them," he said.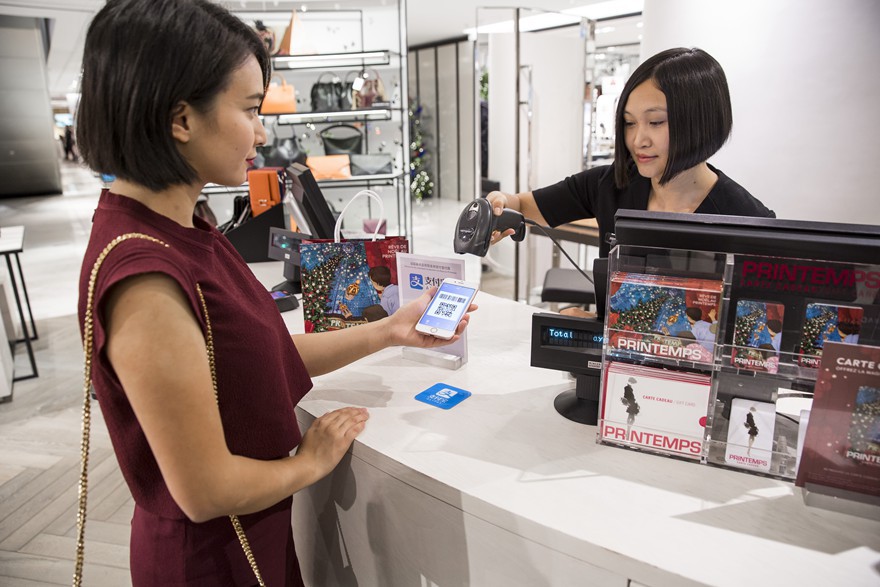 France's Printemps accepts payments via Alipay
"To improve cross-border marketing during breaks like the week-long National Day holiday, Westwin has been making efforts to help foreign travel destinations understand Chinese travelers, therefore, launch more geographically accurate and more cost-effective campaigns," said You. "We use data tags to identify the trends across various verticals, destinations, consumer behaviors and preferences, among others, to help clients place ads more precisely."
For instance, as Russia becomes a hot destination for Chinese tourists, Westwin has helped a Russian shopping mall to launch its online campaign during World Cup. Through ads in WeChat Moment and Baidu Search, Westwin has successfully targeted the Chinese consumers in Russia and Europe and promoted exclusive discounts for Chinese travelers.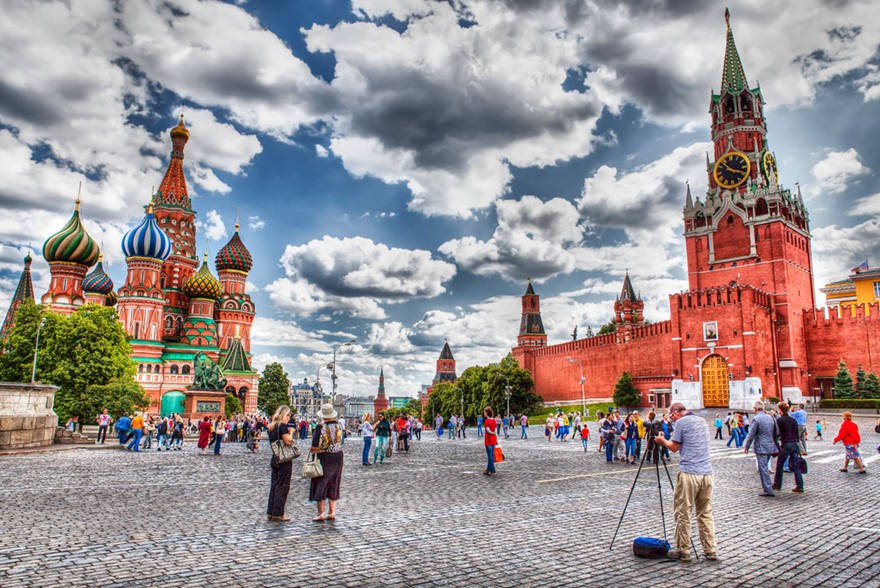 The report finds that 60 percent of the travelers would use domestic search engines, such as Baidu, to acquire travel information. Also, the reports shows that Chinese outbound travelers rely heavily on social media channels before or during their trips: over 40 percent of the total outbound travelers search for information on WeChat and Weibo, two major social media platforms in China.
Opinion leaders also prove to have an impact on travelers' consumption preferences. About 78 percent of the high-income travelers - who earn over RMB 30,000 (US$4,368) monthly - tend to be influenced by the opinion leaders. Some 54 percent of the travelers would shop based on the discounts, as suggested by the report. Some other factors that would encourage travelers to shop or influence their shopping habits include brand stories and culture, advertising creativity, tour guides' recommendations, celebrity endorsements, among others.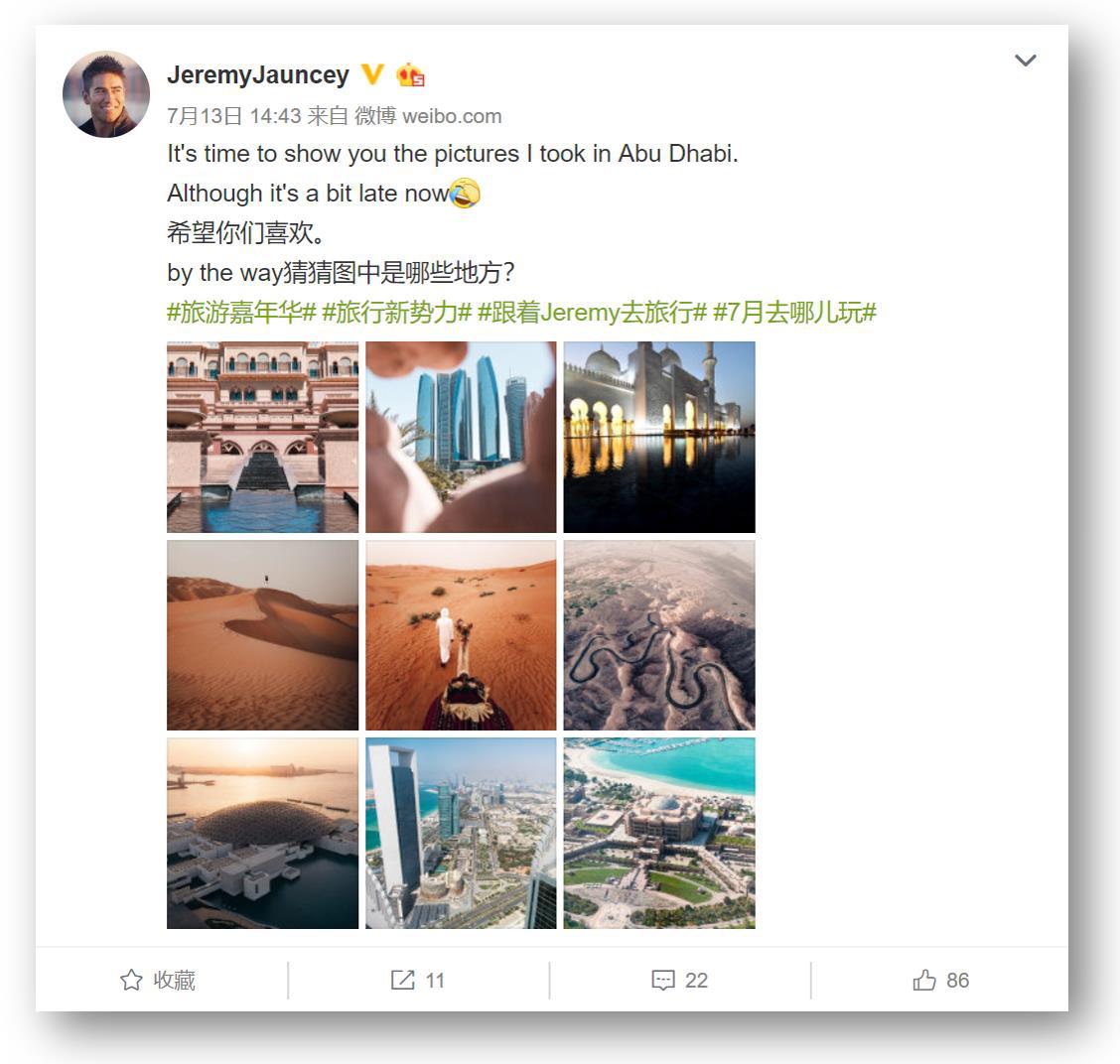 @JeremyJauncey, famous travel KOL on Weibo
What are Chinese outbound travelers buying during their trips abroad? The top four most popular product categories that cross-border consumers purchase while traveling are cosmetics, apparel & footwear, food, and electronic appliances. In addition, the top three destinations are Japan, South Korea, and the United States.
About the 'Cross-border Consumption of Chinese Consumers' Report
Co-produced by Westwin and leading independent third-party research firm, the '2018 report on Cross-border Consumption of Chinese Consumers' examines consumption behaviors in three segments of cross-border consumers: domestic online shoppers, international travelers, and for the first time, overseas residents (Chinese consumers working or studying overseas), an often-neglected segment of global shoppers. The report surveyed consumers in China, Singapore, Australia, Canada, the United States, and the UK.
Download the report at: https://adstochina.westwin.com/cross-border-consumption-report.shtml
About Westwin
Westwin is a leading marketing consulting firm that focuses on cross-border business. We provide branding strategies and digital marketing solutions to help clients achieve success in China and globally. Westwin is a certified advertising partner of China's leading digital platforms including Baidu, Tencent WeChat and Sina Weibo. With considerable experience in cross-border business and partnership growth, Westwin is equipped with the knowledge and expertise to take your business to the next level.