2017 Singles' Day is Coming: What's New on Tmall?
Singles' Day (November 11th) was first celebrated in the 1990s by young, single Chinese as an anti-Valentine's Day. In 2009, Alibaba began using this "holiday" to promote discounts at Tmall and it became the biggest online shopping event in the world ever since.
Entering 2017, Singles' Day will be a huge economic opportunity for not only Alibaba but also the entire China e-commerce. Every year Tmall is pulling new tricks to heavily promote Singles' Day – What are the new things this year?
1. Not just one day – make it one month!
This massive e-commerce event is not just limited to a one-day event: this year, most Tmall merchants start to promote their deals since early October. Customers can collect the coupon, pre-order the products long before the actual November 11th.
2. Super member, super hour
While Tmall smashes sales records every year during Singles' Day sale, still lots of consumers have complaints. One of the many problems is: too many customers are competing for the hot deals, however not everyone can successfully place the order.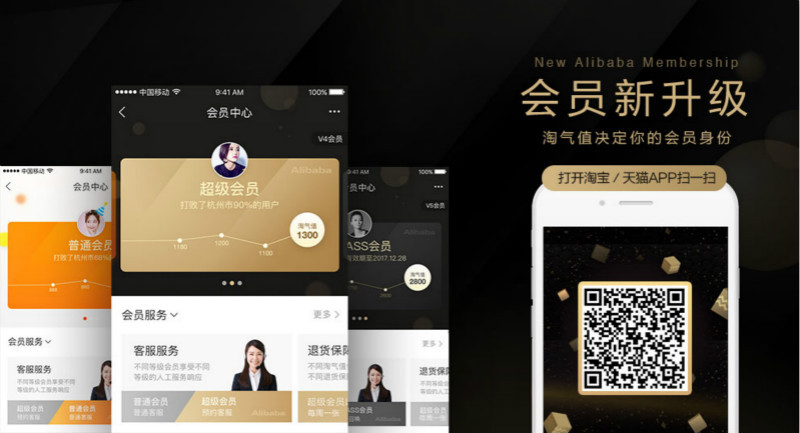 Tmall's Super Member
This year, you'll be in luck if you are "Super Members" of Tmall: starting on Nov. 9th, Tmall Super Members can use their membership points to "lock down" the hot deals into shopping cart. When the time reaches midnight November 11th, Super Members can have one hour to place the orders they locked, without worrying about not getting them.

3. Welcome, cross border merchants.
Tmall Global, Tmall's exclusive cross border e-commerce portal will be a huge part of this year's Single's Day event. Tmall will even use aircraft charter for cross border shipments – consumers will guarantee to receive their order in time.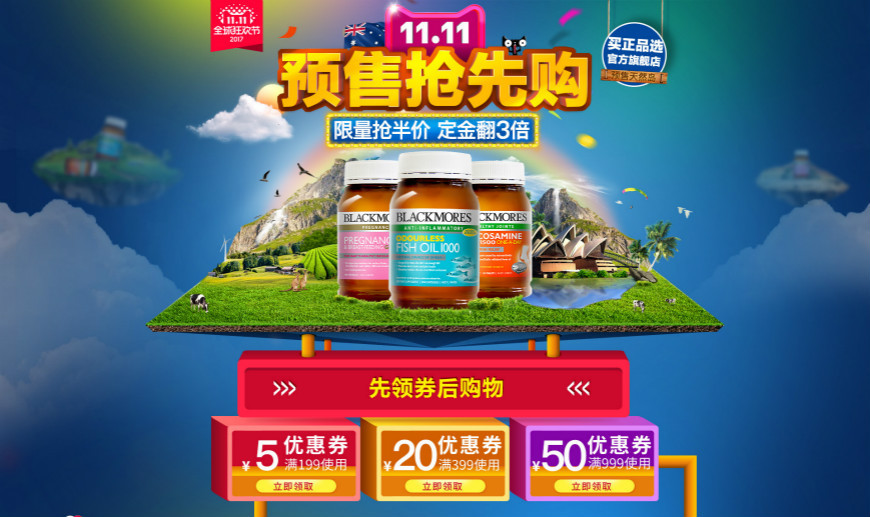 Australian Health Supplement Brand Blackmores on Tmall
Not just introducing foreign brands to China market, this year Tmall will bring Chinese brands to sell in around 200 countries. With Alibaba's global expansion and cross border payment & logistics solution, Single's Day sale will become a global E-commerce fiesta.
4. Pop-up shops offline, boost sales online
It's known to all that Single's Day sale live and breathe online, however in 2017 Tmall will also boost more sales offline.
Days before this year's Single's Day, Tmall will open various pop-up shops in the center of Hangzhou, Xi'an and Wuhan. Not only customers can browse the products in the pop-up stores, but also they can collect coupons and use AR technology to collect cash "Red packets".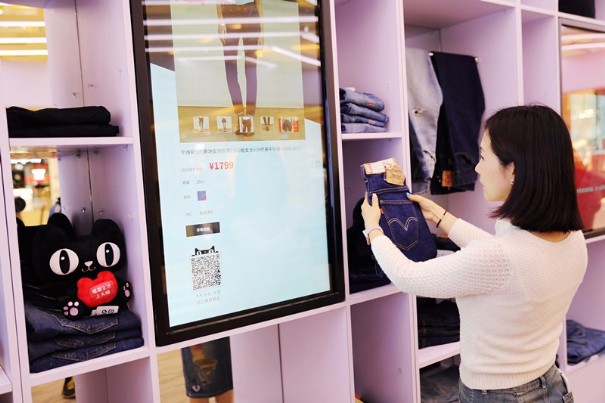 Tmall's Pop-up Store Allows Customers to Scan and View More Details
5. More traffic from different channels
Chinese E-commerce customers are getting used to check their Tmall mobile app and start shopping, however Tmall are trying to pull more traffic from different channels.

Sina Weibo (China's biggest UGC social platform), Youku, Tudou (China's top 2 online video platform), UC browser (China's most downloaded mobile browser) will all play important roles to drive traffics to Tmall. Meanwhile Alibaba is seeking more "eyeball effect" on satellite TV.
Last year, retired NBA star Kobe Bryant, footballer David Beckham and his fashion designer wife Victoria, and U.S. pop band OneRepublic gained appearances on Alibaba's "Single's Day countdown Gala"; this year, "Tmall Double Eleven Festival" will be covered lived on TV and online video channels. Rumor has it that every single item worn by models can be directly purchased. Viewers can watch the show on mobile, clicked the button and purchase the very same dress in no time.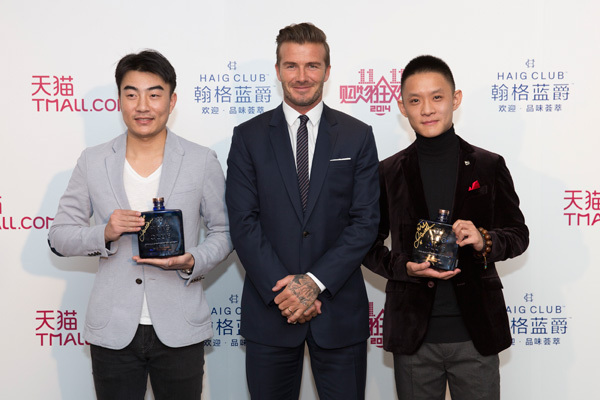 David Beckham & Tmall
E-Commerce Merchants: It's Game Time

Whether you are running a Tmall store in China, or you just enter China market, Singles' Day offers golden opportunity for your brand: you can both grow your brand awareness and increase sales during this time of year.

The key is to understand your target customer. Chinese e-commerce shoppers are mobile-centric and social-savvy, so you might need to focus on digital channels. Build up your promotion on social platforms beforehand, roll out your best promotion during the Singles' Day sales and enjoy the day – it's best timing to interact with Chinese customers and access this emerging market!