China Luxury E-Commerce: LVMH Perfume Sold for ¥3.6 Million on Tmall

You heard it right: Guerlain, subsidiary of LVMH Group launched a "limited one piece worldwide" perfume on Tmall, China's biggest e-commerce portal.
The perfume ("Secret de La Reine") is made up of 14 carats of diamonds and the price was set at ¥3.6 million. It didn't last long till one buyer from Qingdao took it home.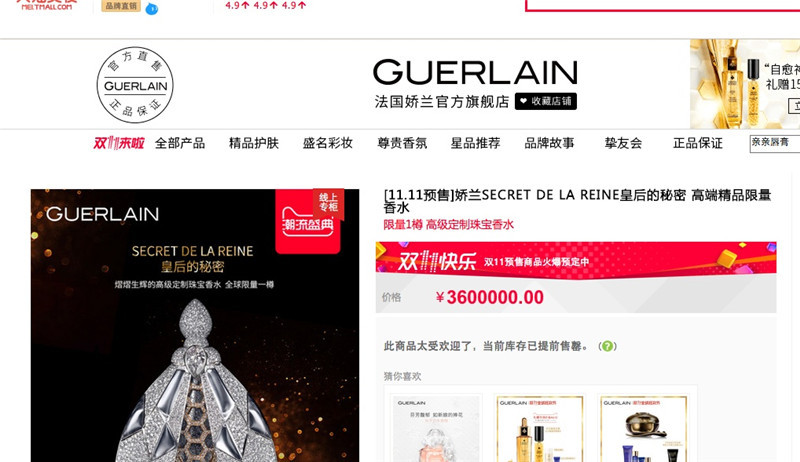 Secret De La Reine Tmall Page
Truth is: more global luxury brands are embracing China e-commerce. Luxury brands are building up their China e-commerce presence, while online platforms are also promoting luxury goods towards ultra-wealthy Chinese customers.
TMall: Singles' Day into Fashion Gala
Singles' Day sale was considered as an online shopping festival when Chinese shoppers can buy goods in a super low price. However, Tmall is trying to make Singles' Day appealing to luxury brands: "Tmall Collection", a nationally-broadcasted fashion show features numerous world's iconic fashion and apparel brands, including Guerlain, Adidas, Pandora, Ray-Ban, Estee Lauder, Victoria's Secret, Rimowa, Ralph Lauren and more.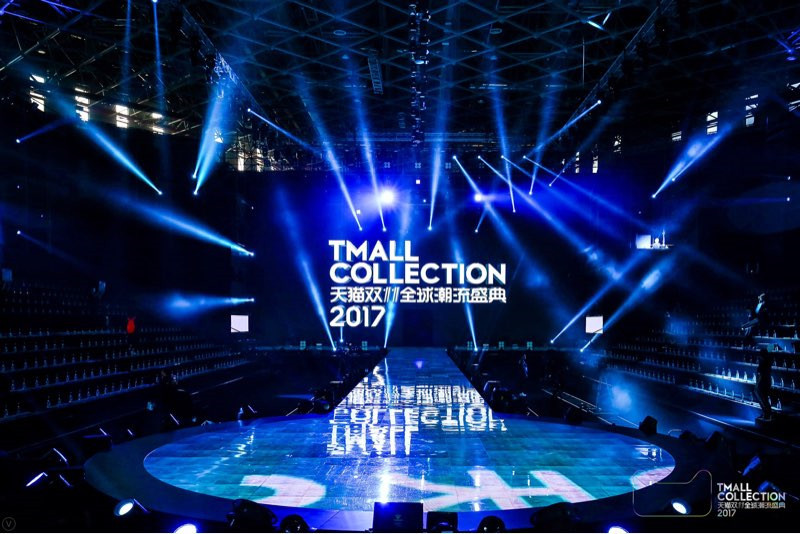 Tmall Collection
The star-studded event is more than just fashion show: viewers can buy what they see when they see it. There were interactive pages set up for TV viewers, while online video platforms offer listings, links or buttons to pre-order the items for online viewers.
Tmall's leading market share in China attracted more global luxury brands to not only boost online sales, but also strengthen brand images. For example, Guerlain has synchronized its membership both online and offline in China and it has reached 1.1 million followers on Tmall within one year.
JD: luxury e-commerce platform TOPLIFE launched
JD.com has unveiled "TOPLIFE", its first-ever luxury online platform. Aiming to mirror the offline luxury shopping experience in a premium e-commerce experience,TOPLIFE allows international luxury labels to set up flagship stores selling products directly to affluent Chinese consumers.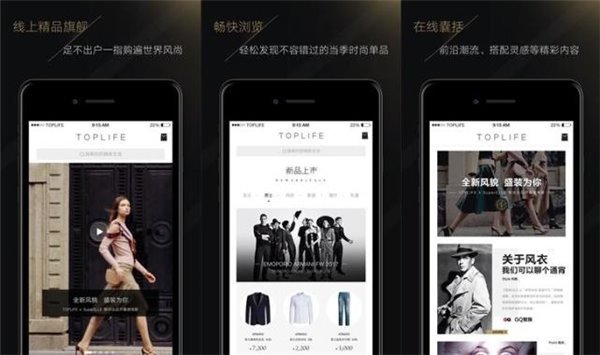 TOPLIFE Mobile App
Luxury labels including La Perla, Emporio Armani, Rimowa and Trussardi will be the first group of users on TOPLIFE. More brands are expected to join the site in the coming weeks.
Serving high-end customers, TOPLIFE put lots of efforts in customer care. To start off, its "white-glove delivery services" sounds interesting– suits, bow-ties and white gloving wearing delivery man will secure TOPLIFE shipments to buyer's doorstep by driving electric cars. Moreover, every TOPLIFE member will have an exclusive online consultant available 24/7.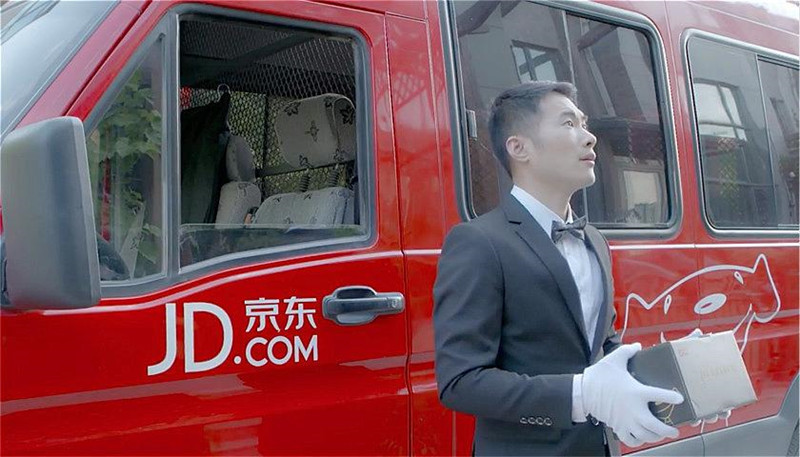 white-glove delivery services by TOPLIFE

Luxury in China is Online
Luxury brands cannot miss out the opportunities in China: Global luxury goods market expected to grow to €254-259 billion in 2017 while Chinese consumers will be a key driver to push the market.

Traditionally, luxury brands are against e-commerce because of its DNA; however, since Chinese consumers are mobile-savvy, global luxury brands are trying to deliver the same luxury experience to consumers in digital forms.

If your brand is new to this game: keep in mind that "sales figure" is NOT that important. The key is to tell the brand story: both social media channels and search engine marketing can attract the right customers and bring them to your store both online and offline.