Where Do Chinese Book Their Trips Online?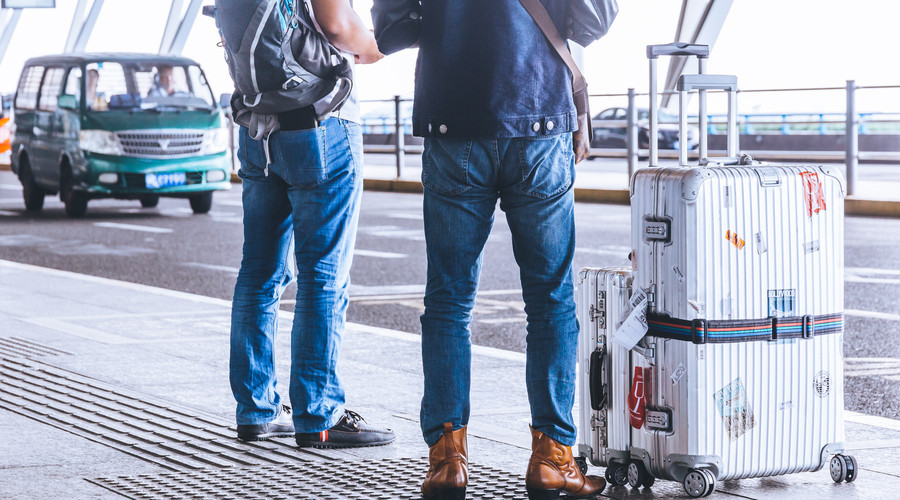 Chinese travelers used to get to travel agency for help; now since everything goes digital, online travel agency (OTA) would be a much easier way.
OTA works as travel web portal that sells travel packages to customers on behalf of global consolidators of airlines, hotels, holiday packages, car rentals, cruise lines, railways and sightseeing packages.
China had the world's largest number of outbound tourists (128 million) in 2017 and with $117 billion expense. If you are targeting Chinese travelers, choosing a good OTA in China is extremely important.
China's Major OTAs
Ctrip
Ctrip was founded in 1999 and it's one of the biggest online travel agency in China on 3 mains areas: hotel booking, flight ticket booking and travel. Ctrip has also developed more functions, such as inbound/outbound local tour and tickets booking, luxury cruise package, events/sport game booking etc.
Ctrip has also started to run their own UGC community in 2016 for taking more users from China's two biggest UGC(User Generate Content) channels – Mafengwo and Qyer.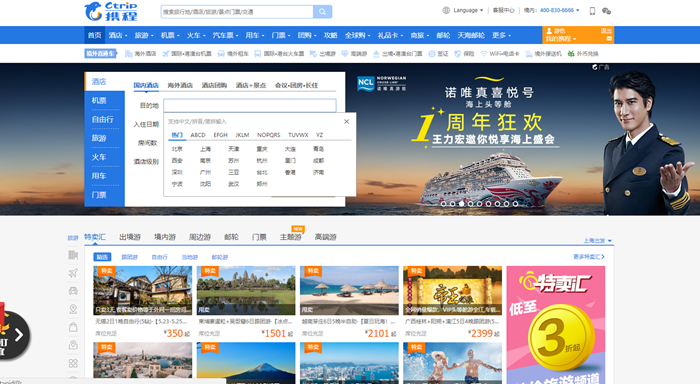 Ctrip Homepage
In 2016, its net revenue raised 76% year-on-year to RMB19.2 billion (USD 2.9 billion). On November 1, 2017, Ctrip acquired United States travel research website Trip.com, rebranding it as their global brand website.
Qunar
Founded in 2005, Qunar is also one of the biggest online travel agency in China. In 2013, Qunar was reported to have around 75 million monthly visitors and 34 million activated mobile app users.
In 2014, China's two largest travel booking giants Qunar and Ctrip are partnering up to end a long period of rivalry and courtship with a share swap and business alliance.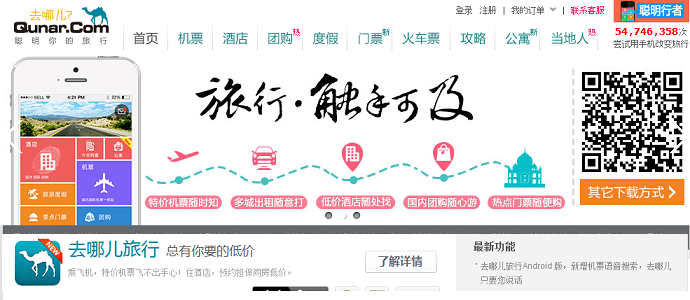 Qunar Homepage

"Which is better, Ctrip or Qunar?" In the past, you always heard this question from people when it comes to Chinese OTAs. Now, the back-then competitors are standing on the same line to build their own empire.
Fliggy
Alibaba launched its online travel platform Alitrip in late 2014, marking Alibaba entering the online travel game in China. In late 2016, Alibaba renamed "Alitrip" to Fliggy. Pronounced "Feizhu" in Chinese, Fliggy means "flying pig" and it targets young Chinese travelers who are willing to explore.

By the end of 2016, Fliggy had about 200 million users, 100 million downloads of its app and annual sales for 100 of its shops of almost $15 million.

Fliggy Homepage
Tuniu
Established in 2006, Tuniu has become the leading player in China's online leisure travel market with stable profits. Tuniu group will focus on flights, hotels, weddings and video entertainment while a subsidiary to deal with financial services.
The company has partnership deals with airlines and hotels covering over 200 countries and regions.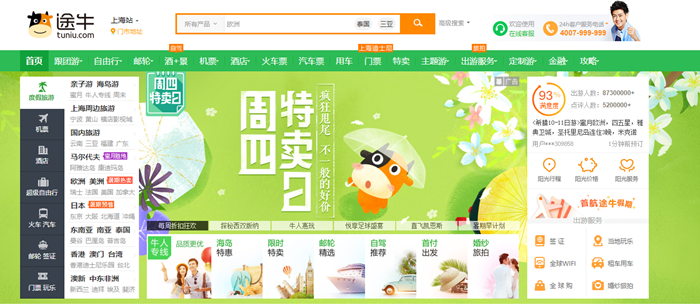 Tuniu Homepage

Others
Elong - founded in 1999, used to be Ctrip's biggest competitor. In 2014, ELong and Tongcheng formed a strategic partnership that will see the companies exclusively supply certain products to each other.
Lvmama - founded in 2008. Lvmama is a B2C e-tourism website. Its biggest selling point is "DIY Trip" – instead of trip bundles, consumers can pick the hotels, restaurants and flights they prefer in a trip booking.
Promote My Business in OTAs
For those of you who want to promote tourism business in China, you might have the same question: there are so many OTA channels in China, which one should I choose for my foreign business?
Our suggestion for Chinese OTA is: The bigger, the better.
When we look at popularity, Ctrip seems to be the best choice. Also, Fliggy could be a good option if your tourism business is involved with e-commerce (for example, you want to sell museum tickets to Chinese tourists).
Is my tourism business really fit for Chinese OTAs? How should I set up my presence there? Do not hesitate to contact us – our specialist will give you the most appropriate option for you and your business!