What's the 2nd Most Active Social Media Platform in China?

When it comes to the most active social media platforms in China, Wechat is taking the crown with one billion daily active users. But have you ever wondered who ranks the second?
The result may surprise you: The Digital 2019 report, created by social media marketing management platform Hootsuite and digital marketing agency We Are Social, found that 72% of Chinese respondents use Baidu Tieba, the second highest platform only next to WeChat (79%).
You may have heard of Tieba for its prevalence with Baidu, China's largest search engine. So, what is Tieba exactly? Is it a social media platform or is it more related with search engine marketing?
What is Baidu Tieba Again?

Powered by Baidu, Tieba is a network of communities / forums. Like Reddit, Tieba is topic-based: users find the respective forums based on searching keywords and anyone can publish contents to the forums and join the discussion.

From a hit TV show to a popular video game to a tourist attraction, you can always see a Tieba discussion dedicated to that topic. Just like a sub-reddit, a Tieba can be found by searching the keyword in Baidu and this Tieba help searchers connect with users of similar interests.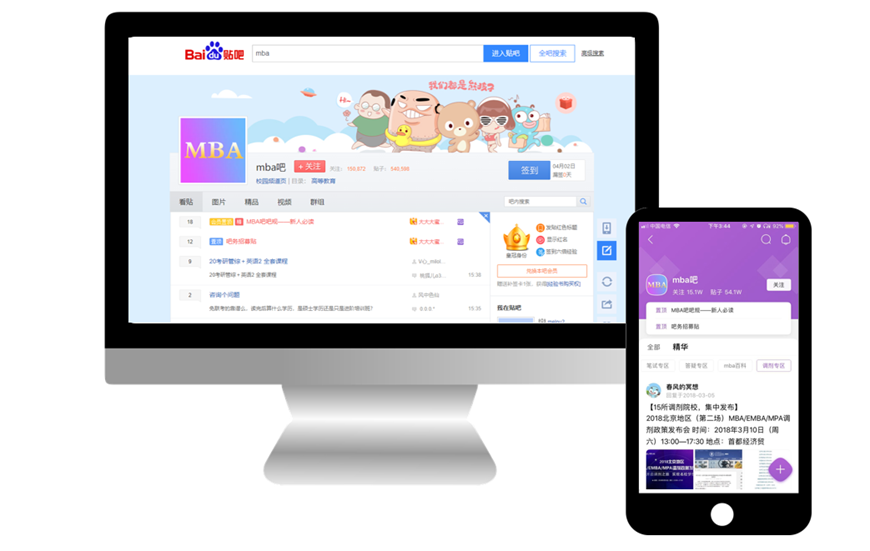 MBA Tieba
Till today, there are 22,691,021 Tiebas now and still growing. The user base is huge: according to Baidu, there are totally 1.5 billion registered Tieba users, with 0.3 billion monthly active users. More than 20 million posts are generated daily.
Who Are Baidu Tieba's Users?

Tieba's users are mostly "Generation Z" in China – around 65% to 70% of Baidu Tieba users are below 24 years old. These Gen Z users are curious and adventurous: they are looking for answers to solve their questions on search engine. Meanwhile, with a little help of Tieba, they are discovering their interests during this process.
It's no secret that brands have been obsessed with these Gen Z users: After all, teens are the future of retail.
What Are Hottest Tiebas?

There are all kinds of Tiebas on Baidu generating buzz daily. Below are the five most common and active Tieba, sorted by different categories of interests:
Fan club: Celebrity/TV show/Movie/Sports team
Geographic: City/Province/Country/School/Company
Hobby: Working-out/Lose weight/Jogging/Singing/Calligraphy
Life: Relationships/Symptoms/Online dating
Brands: You could also say they are the fan clubs of different brands.

Why is Tieba Marketing Important?

Tieba marketing should be an important element of your brand's China SEO & SEM plan for three reasons:
1) Better ranking. Tieba integrates Baidu the search engine heavily, making it easier to rank highly in Baidu's search result. Frequently, a Tieba will be shown on the top of first page when searching certain keywords. This will continuously bring organic traffic.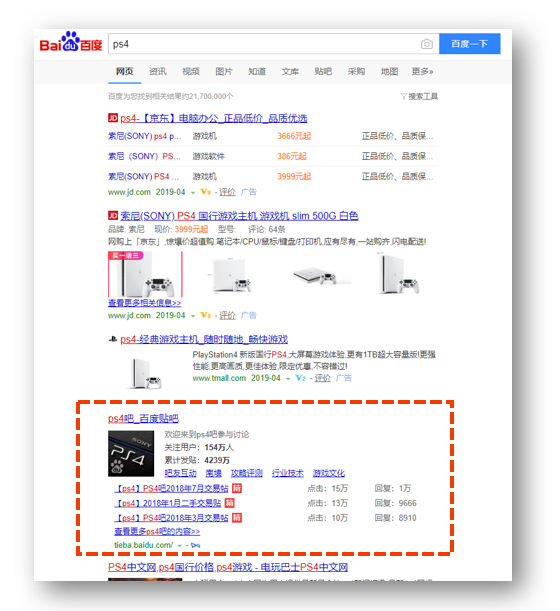 Example: PS4 Tieba ranks 1st when searching "PS4"
2) Targeted users. Every Tieba is surrounded by users sharing the same interests, lifestyles or geographic. For example, if you're a watch brand who want to understand your Chinese target users online, you should check the watch Tieba. Not only you will learn more about their likes and dislikes, but also you can have the opportunity to present your brand and interact with online users.
3) Lower cost. Both posting contents in Tieba and creating a new Tieba are free. All you need is to revive your content marketing strategy.
In conclusion, "Tieba marketing" combines social media marketing and search engine marketing together. Building a great Tieba presence for your brand can not only draw Baidu users' attention, but also bring constant targeted traffic consisting of potential customers.
Attract New Customers via Tieba Ads

There is zero cost to start your Tieba marketing, meanwhile you can also utilize Tieba Ads to boost your brand awareness.
Good thing about Tieba Ads: Baidu make ads as native and natural-looking as possible for their community of users. For ad formats, you can choose posts, images, videos or poll upon requests.

Baidu Tieba Ad Formats
How to pick the right Tieba for my search ad campaign? Tieba uses Interest Targeting: you can display your ad to the right audience based on a user's browsing behavior on Tieba.
In general, Baidu Tieba ads will be helpful if your target users are Chinese teens who use Tieba a lot.