Cool Features in Tmall Global's New English Portal

On June 26th, Tmall Global launched merchant.tmall.hk - it's very first English-language website. It aims to educate brands, simplify the application process and bring more global merchants to China's biggest cross-border e-commerce platform.
Over 300 brands have filed up their application on new English portal in one week. Right now, Chinese consumers can find over 20,000 international brands from 77 countries/region on Tmall Global.
From "invitation – only" to "apply directly"
Beforehand, Tmall had an invitation-only policy for foreign companies without Chinese license. These companies must use an authorised Tmall Partner (TP) to manage the invitation and day-to-day operation of the storefront. The process takes about four to eight weeks, however many small and medium enterprises (SMEs) found it difficult to get invited by Tmall Global.
Now, foreign brands can apply on new portal directly. Once submitted, Tmall Global will reach out to your brand within a week with the most suitable solution. With simplified application steps, foreign brands can enter Tmall global faster and more effectively.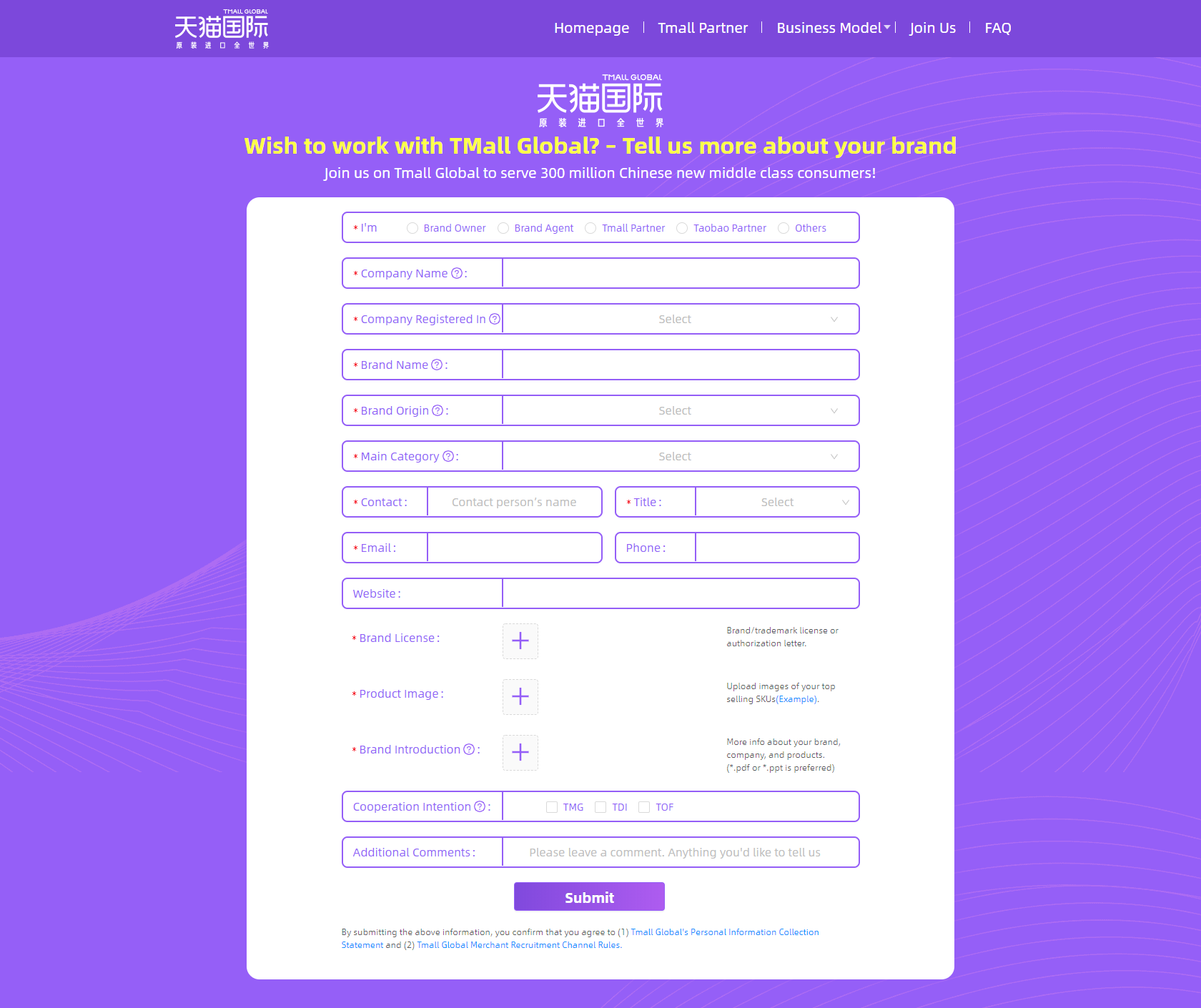 "Join us" Page on Tmall Global's English Portal
Easy-to-find Tmall Partners
Tmall Partners, or "TP", is very important for your Tmall Global store: Non-Chinese companies must use an authorised Tmall Partner (TP) to manage the invitation and day-to-day operation of the storefront.
It takes time and effort for foreign brands to understand TP's role and how to work with them. New portal tries its best to explain - When you click "Tmall Partner", the page has everything including "Who Are TPs","Why partner with a TP" and "How to partner with TP".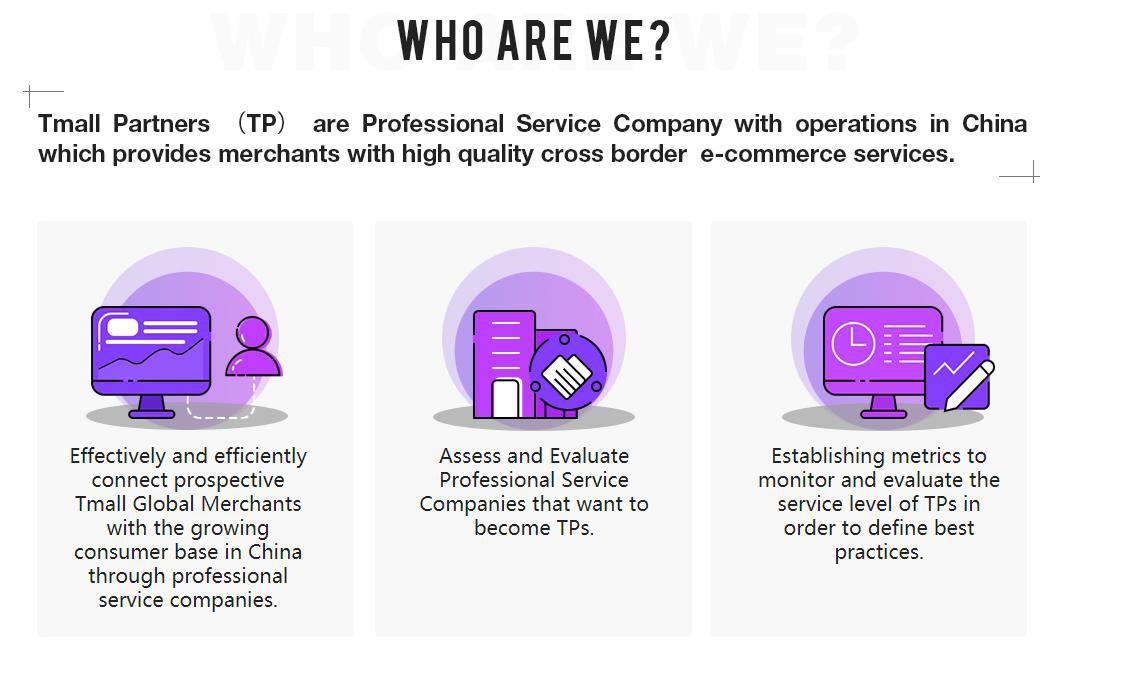 Moreover, one can find TP listings on the English portal too. Details like recommended category, star rating, years of operation are listed as well. This will help foreign brand find their trade partner on Tmall Global.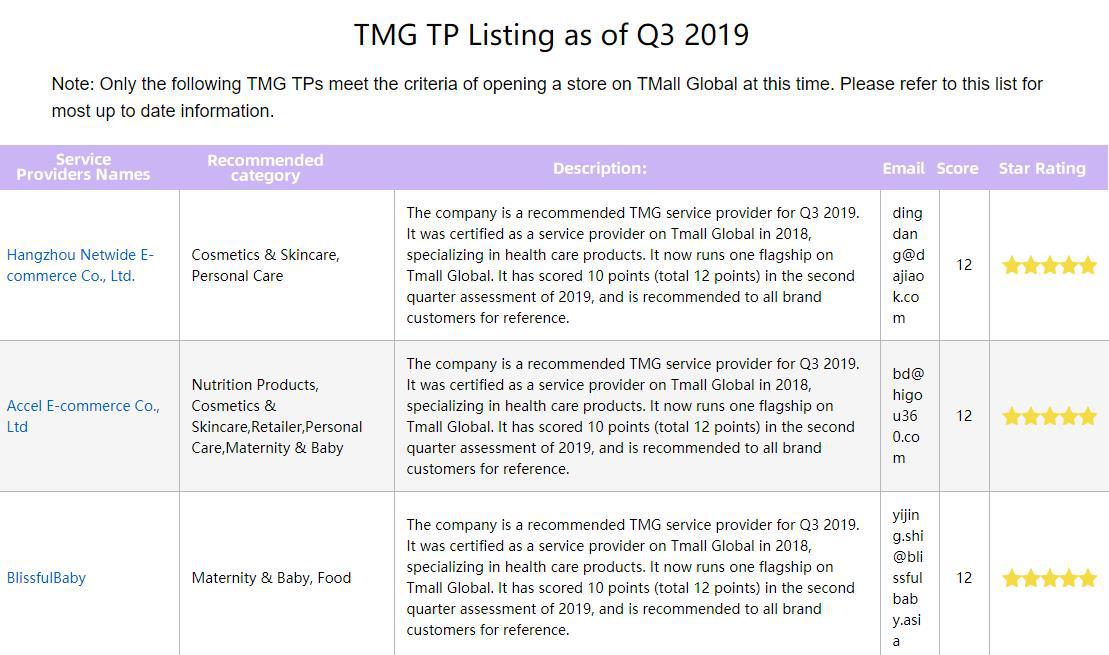 TP Listings
More languages to come
The English portal is Tmall Global's first step: in the future, Tmall Global will be presented in more languges: Spanish, Japanese, Korean, etc.
This shows Alibaba's ambition on cross-border e-Commerce: Tmall Global aims to set up store for 40,000 global brands, doubling the current number of brands. More language page front will better serve more small and medium brands all over the world.
Promote your Tmall Global store online
Another important task is how to properly market your Tmall Global site. If you don't promote it, though, customers won't be able to find it. We recommend you try new tactics that best fit your budget and business plan.
Search engine optimization (SEO) is a must - the more optimized your online store is, the higher ranking you will have within search engine, which means more traffic and more sales. Baidu SEM advertising can also be one of the best ways to ensure your site's success.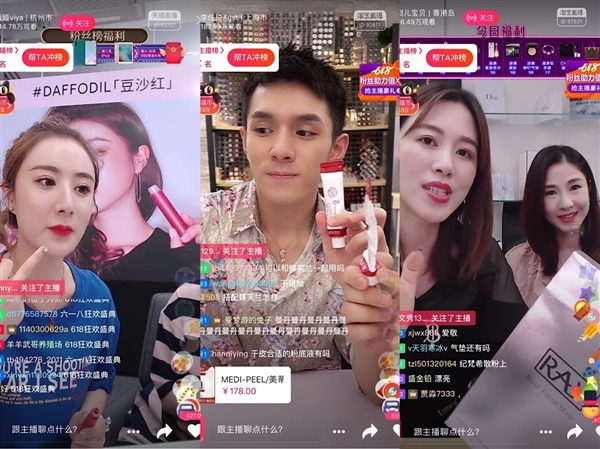 KOL use live-streaming to help online sales
Moreover, KOL marketing also has huge impact on e-commerce sales. The right KOL candidate has huge social media following and followers tend to listen and believe his or her opinions/recommendations. With the lift of these influencers, your brand can tap into their audiences which equals to highly engaged potential customers and promote your Tmall Global store directly.