Audi, BMW & Mercedes-Benz in China: Why are they on Tmall?

Traditionally it's hard to imagine selling cars online, however more car brands (especially luxury car brads) embrace ecommerce to gain digital customers in China.

BMW, Audi and Mercedes – Benz have opened their own Tmall flagship stores since 2015. Taking a deep look, three brands are using different strategies on biggest ecommerce platform in China.
Audi: Vouchers for New Car

Vouchers are the best sellers on Audi's Tmall store: you can get a 1,999 RMB vouchers for 99 RMB, or a 4,040 RMB voucher for 2,020 RMB (depend on the car model).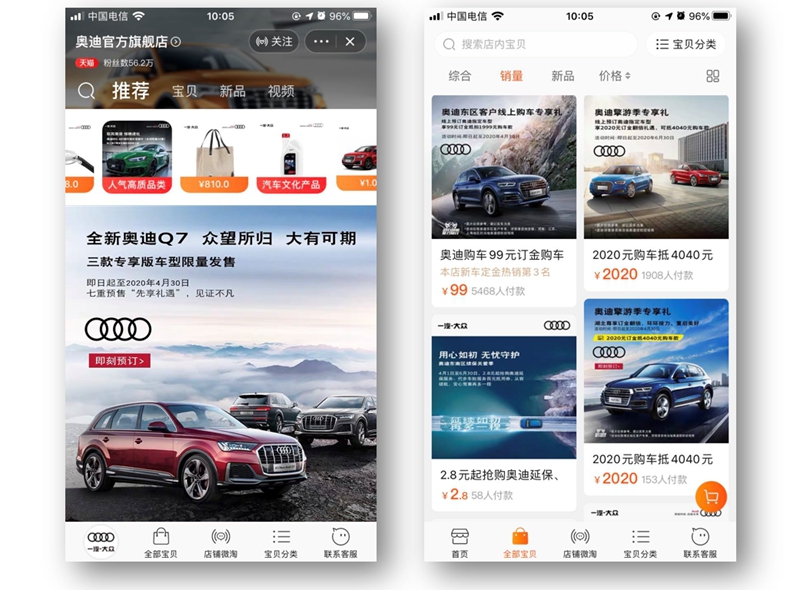 Before you hit the purchase button, you can pick a dealership near you to redeem your voucher and pick up your new car.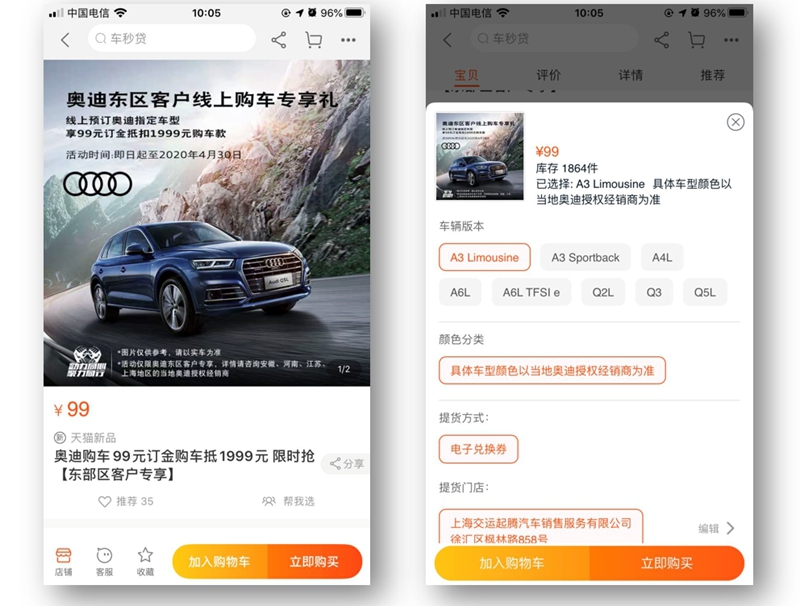 BMW: 1 Yuan Test Drive

BMW's Tmall store is mainly used by potential customers to book their test drives: For 1 RMB, you can secure a test drive opportunity for your beloved BMW motorbikes.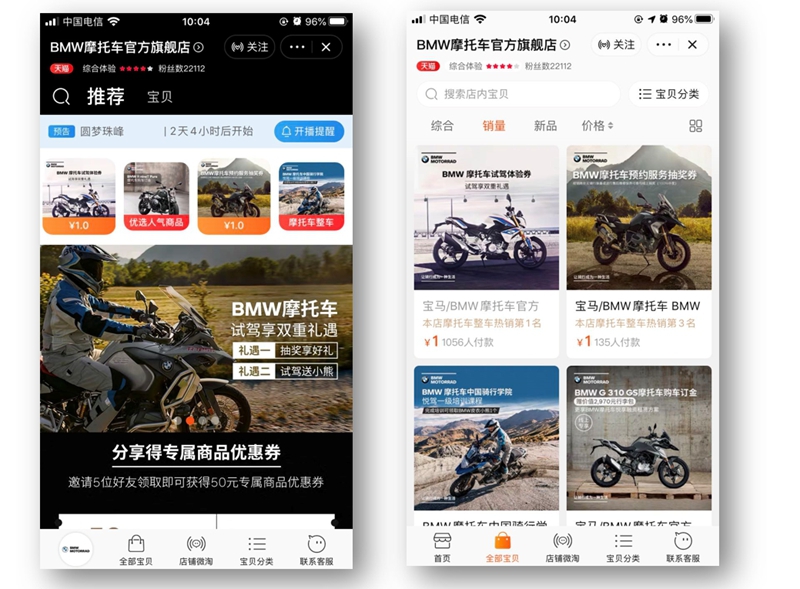 Similarly, before you place the order, you can freely choose the dealership to do the test drive in your local area.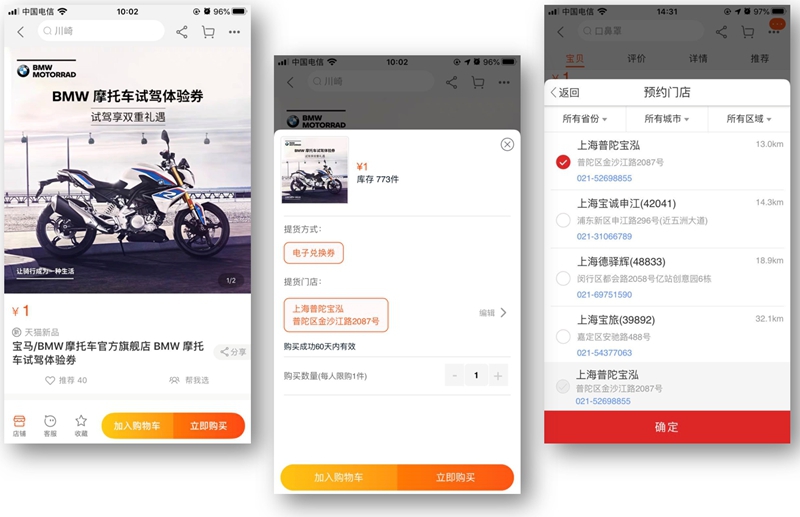 Mercedes-Benz: Merchandize Only
Benz on the other wise is doing very differently on Tmall: no vouchers, no test drive coupons, only brand swag products. A full line of merchandise can be found, including handbags, necklaces, cellphone cases and toys.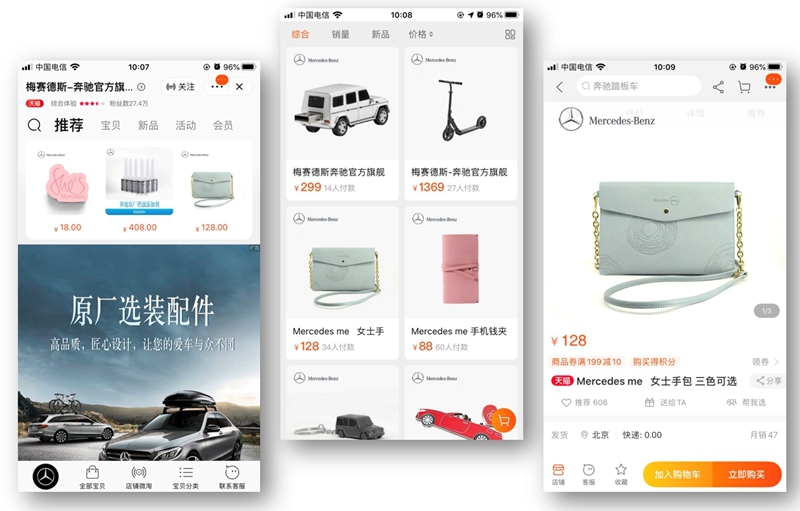 WHY?
1. To acquire high quality leads at low price

Sales leads in auto industry is becoming more expensive today: based on car dealerships, it costs around 260 RMB per lead. However, the quality is declining: a lot of them are invalid or repetitive.
Car brands are exploring more channels to acquire sales leads and ecommerce is one way to go. BMW's 1 RMB test drive is the most sold item in its Tmall store – more than 1000 has purchased. All of those who paid and did the test drive are considered high quality leads.
2. To target younger customer in China

Chinese car buyers are getting younger: Post-90s generation are taking over to become the main target. Younger customers are more likely to make a purchase decision on phone and that's why car brands are investing in ecommerce.

Lack of transparency has been a big problem for car dealerships offline, hence car brands today are trying to solve it online. Therefore, for brands like BMW & Audi, tmall is a secured way to digitalization in China: young customers can know more info as possible on the platform they have long embraced.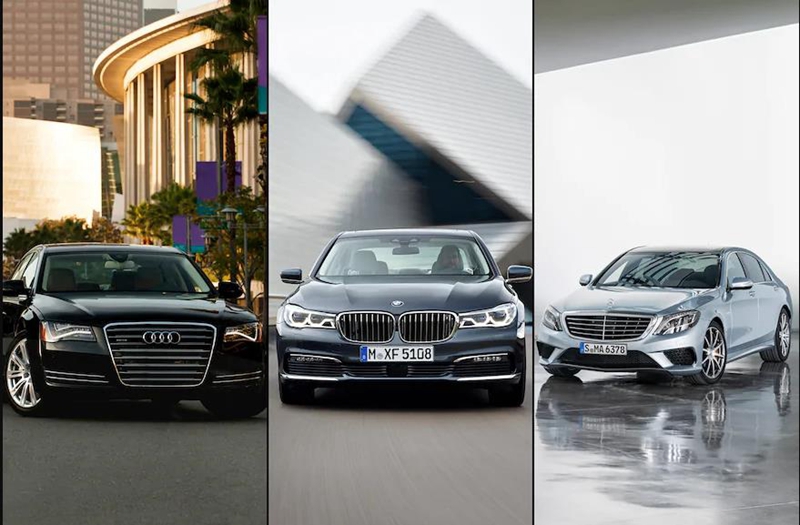 3. To increase brand awareness via ecommerce

How do you deliver your brand's message to its audience effectively? One form of marketing that is often overlooked is branded merchandise.

Mercedes-Benz selling brand merch on Tmall tells us: comparing to acquiring leads, building brand culture is equally or more important. For a high-end brand like Mercedes-Benz, the brand story will largely affect customer's purchase decision. Hence promotional merchandise can give your brand an edge by acting as an affordable and effective marketing tool.